Welcome, AO22 and AO23 ArtBall holders, to the Collective Shift platform! As a benefit of owning an AO22 or AO23 ArtBall, you get a 12-month Starter membership to our crypto research and education platform.
Starter members get access to several features and perks. Below, we explain how to get the most out of your Starter membership—regardless of how familiar you are with crypto and NFTs.
It looks like you do not currently have an AO22 or AO23 ArtBall NFT connected to this account. Please ensure you have selected the Ethereum address with your AO22 or AO23 ArtBall NFT then refresh this page.


New to Crypto & NFTs?

Follow These Steps

Now that you own an NFT and cryptocurrency, it's important you know how to store them safely and stay safe online.
(2) Check out some beginner-friendly analyst posts
Our analysts publish content every week for Pro members. Access to these posts is occasionally made available to Starter members, such as these ones:
(3) Set up your personal dashboard
Our dashboard feature lets you see all your cryptocurrency holdings in one place. You can also choose the categories (e.g. NFTs, security) in order to get a customised feed that only has content that's relevant to you.
(4) Weekly Member Town Halls
Every Friday in our Discord server, we host Member Town Halls to discuss the week's biggest news in crypto and the global economy, as well as to share our opinions on other relevant topics in crypto.
The Town Halls are the perfect opportunity for members to ask our analysts questions about anything relevant to crypto and NFTs. We end every Town Hall by giving members time to ask questions.
All Town Halls are recorded. Within 24 hours, they are timestamped and uploaded to the Member Platform. (Go here for all previous Town Halls.)
(5) Member-only channels in our Discord
Speaking of Discord, we have a number of channels that are only accessible to members. To join our Discord, follow these steps.
Examples of our member-only channels are #nft, #research, #bitcoin, #ethereum and #airdrop.
(6) Dive into our educational resources
We've spent years adding to our Resource Library. Here are 6 that we recommend checking out:
If you want to learn about the crypto basics in a more structured way, our Beginner Course is for you.
Our Top Tutorials page has more practical guides. Members often find How to Store Your Crypto and How to Use MetaMask particularly useful.
(7) Visit our Asset Pages for our opinions on individual cryptocurrencies
In our individual Asset Pages, members get exclusive access to our bullish and bearish cases for a select number of cryptocurrencies. The below screenshot is part of our analysis of Ethereum Name Service (ENS).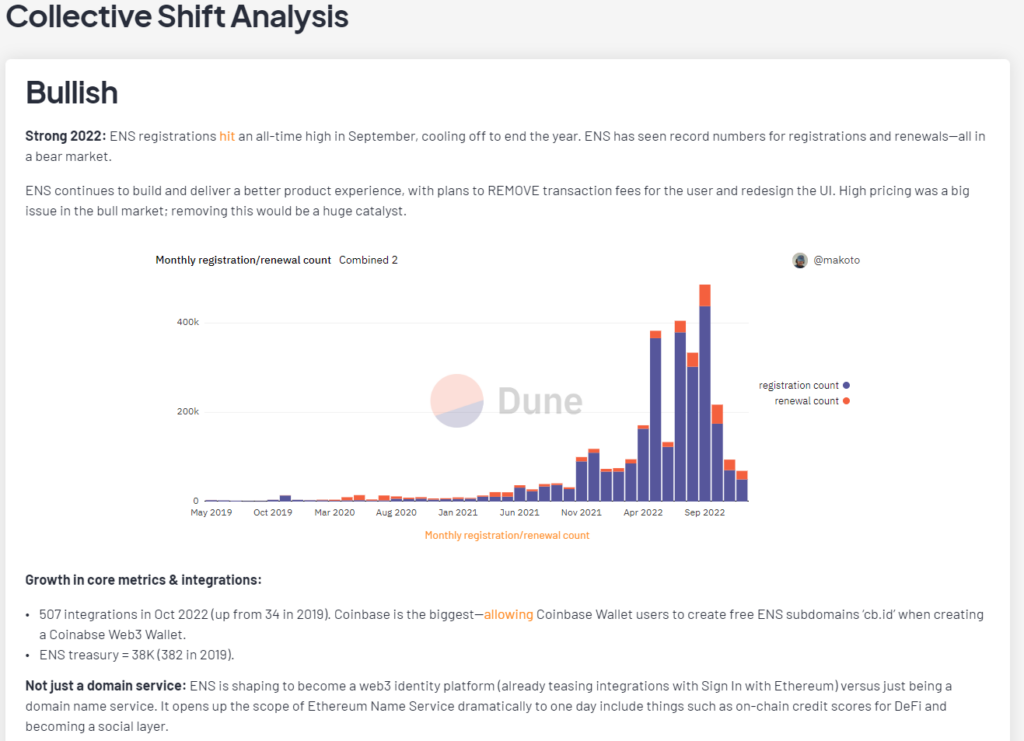 Familiar With Crypto & NFTs?

Follow These Steps

Regardless of experience and knowledge level, Starter members enjoy the same features and perks that are described above.

So, for the more experienced AO23 ArtBall holders who are reading this, be sure to do things like set up your dashboard, ask questions in our weekly Town Halls and join our member-only Discord channels.

For Starter members who are more experienced with crypto and NFTs, we recommend consuming some of the below material.

See our workshops for walkthroughs and tutorials, such as the one below on How to Use Dune—a widely used on-chain analytics platform.