Actionable crypto analysis for your portfolio
Take the uncertainty out of your crypto investment journey with expert insights powered by world-class research from a team with a track record.
We're offering a limited number of spaces for a complimentary strategy call.
Book a Free Crypto Strategy Call





What Is A Free Crypto Strategy Call?
In the call, we'll chat about your crypto goals and share insights that you can factor into growing and developing your portfolio. In the call, you'll receive:
15min 1:1 Call With our CEO Ben Simpson or one of our Member Success Team
Crypto market analysis with our latest insights
A security risk analysis so you can better understand how your choices could leave you vulnerable to tech risk and security
A rundown of our current strategies for investing in crypto that supports a well-balanced portfolio and not some "moonshot"
A short sharp Q&A
New members have cited this call as one of the most valuable steps in their journey.

Click the link below to book your complimentary place.
Book Free Crypto Strategy Call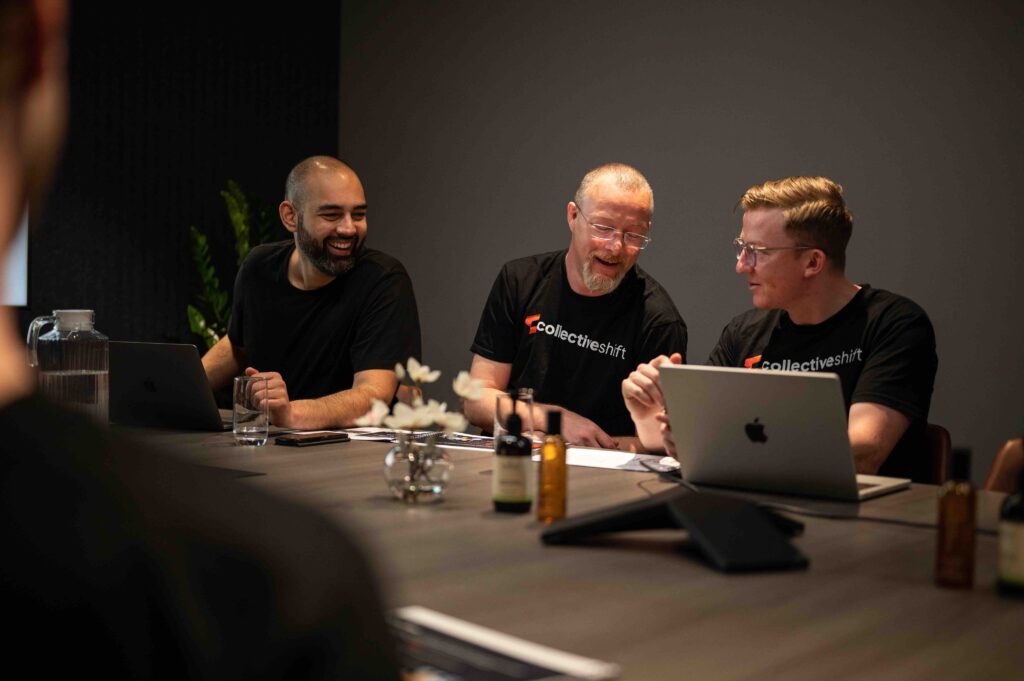 How we power your investment decisions
1. Opportunity Identification
Our team of researched and analysts use our longitudinally proven approach to identifying opportunities (and those that are not what they seem) early before most retail investors. The earlier we make our members aware of what's happening in the market, the more actionable the opportunity becomes.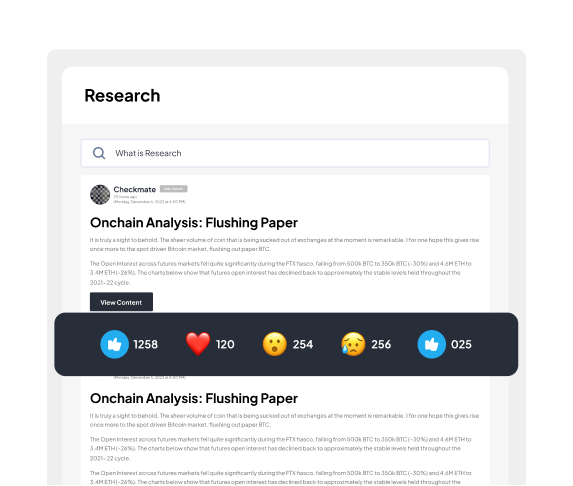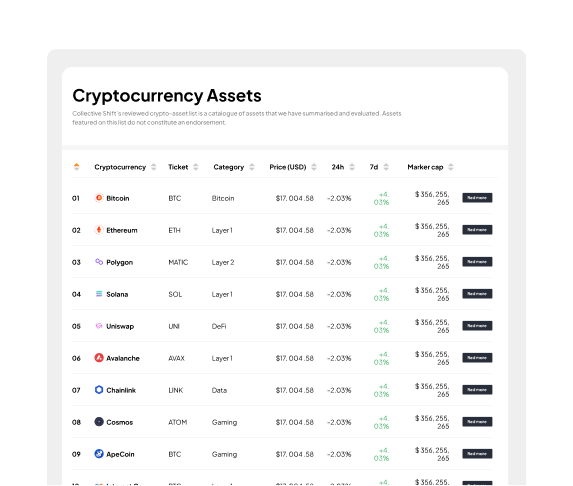 2. Analysis & Education
The marketplace is noisy and it's easy to get pulled into the hype. We've all had those mates who say, "you should get in on X before it goes off", but our focus is on pulling apart opportunities through a detailed analysis with our industry experts without too much of the technical jargon.
3. Decision & Monitoring
After you've read our analysis, you'll be better equipped to make the call on your investment opportunities. We've successfully given our members the right level of monitoring to be able to identify and exit early, such as identifying the FTX collapse days before it occurred, saving our members hundreds of thousands of dollars in their portfolios.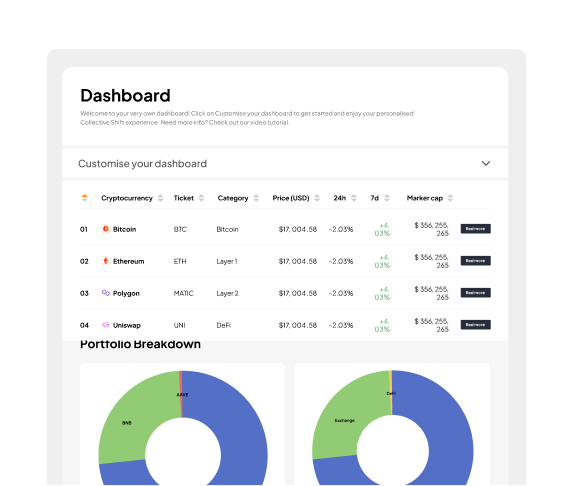 ---
Why leverage Collective Shift?
Time saved with insights all in one place
360-Degree Investment Analysis
Unbiased analysis
Real research with true transparency
Access to our investment strategies
Your dashboard with insights related to your portfolio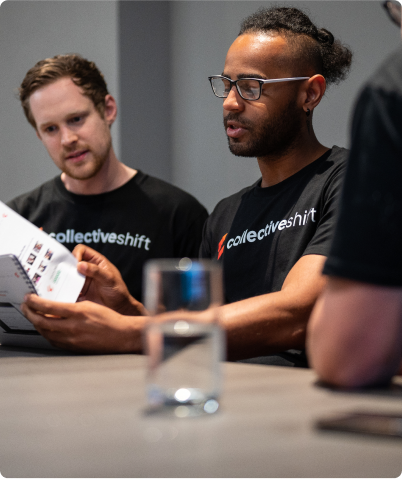 Book a Free 1:1 Crypto Strategy Call
Book Free Crypto Strategy Call
---
How our expert analysis has provided members with investment growth or avoided catastrophic losses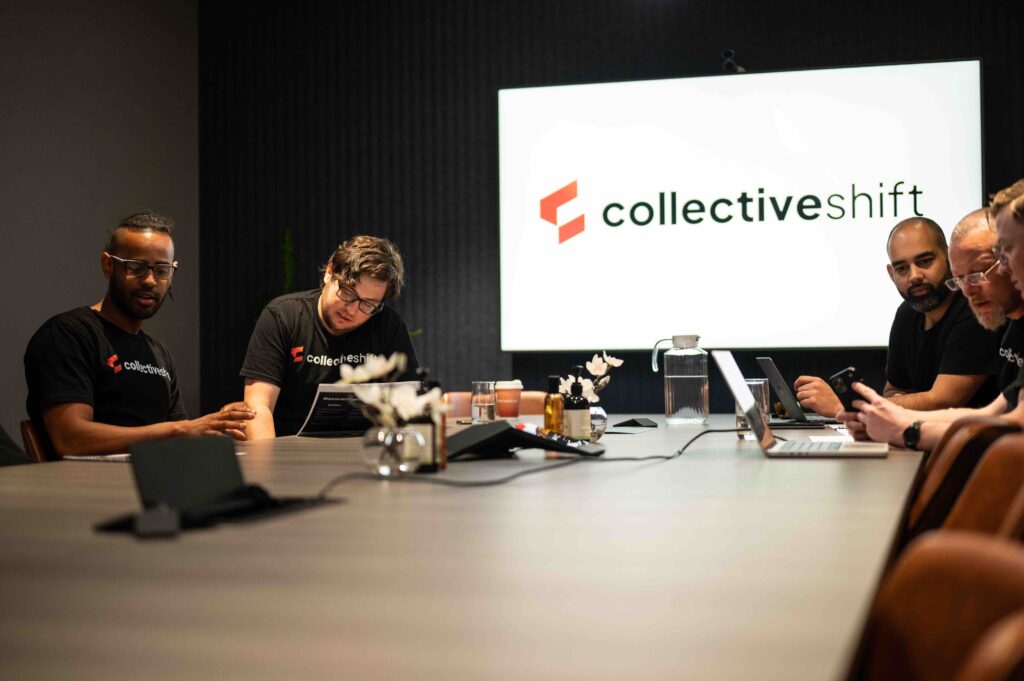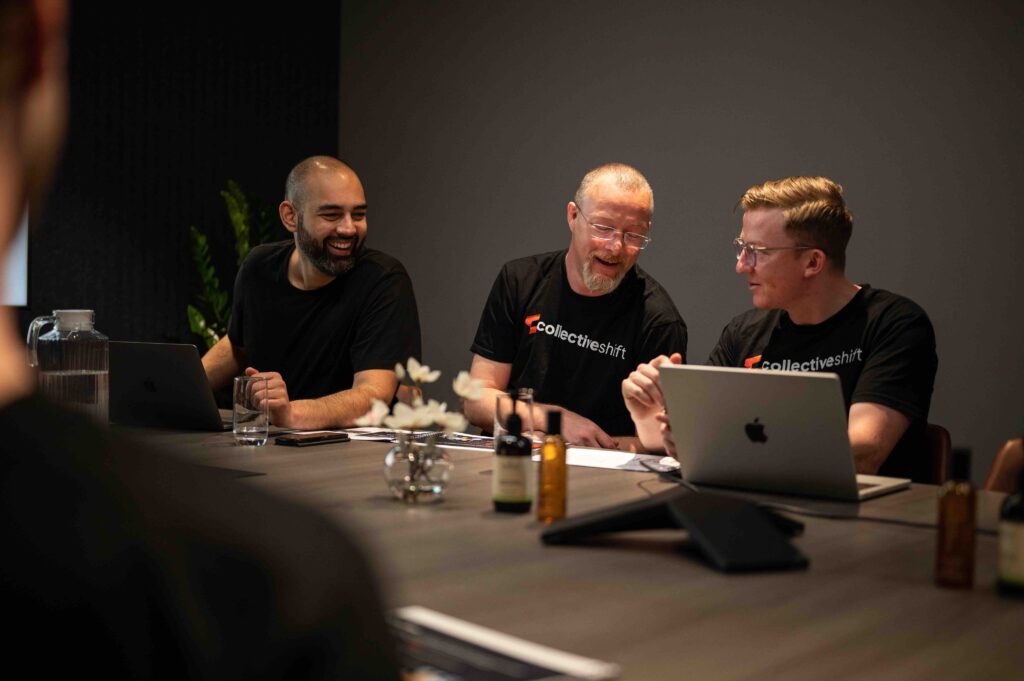 2. Alerted members to early investment opportunities
This included:
– Our Medium-Term Portfolio bought Maple (MPL) at $16.30 before taking profits 6 months later at $51.50.
– Nathan taught you how to buy a Bored Ape NFT when they were worth $200. Their floor price topped at $400,000.
– Matt introduced you to Moonbirds in March and covered it further as the mint date approached. They minted for $7,650 and hit a high of $133,000 days later.
3. Predicted market movements in advance
We shared our investment approaches as markets moved, giving you an early indication of what to expect and how you might adjust your portfolio. Whether it was Nathan's warnings of a 2022 bear market in Sep. 2021 and Oct. 2021, or Matt's recent insights on what it'll take for him to recommence buying BTC and ETH.

These insights drove investment choices that saved members money and allowed them to move ahead of the market.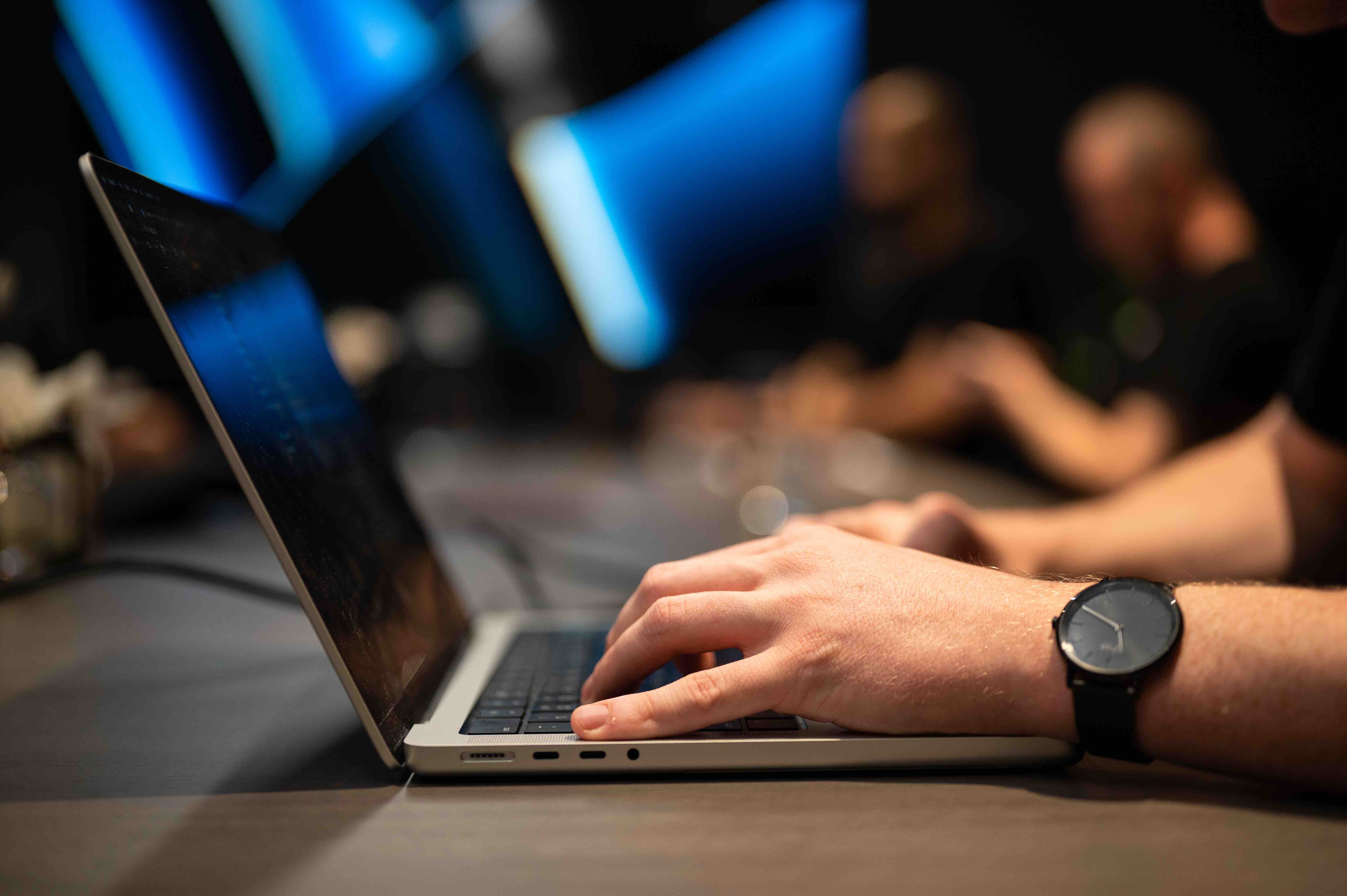 The world's leading companies trust Collective Shift






6,000+
Active Members

6+
Leading Global Analysts

$1M+
Member investment growth
Join some of our other thriving members
I'm Ben Simpson,
Founder of Collective Shift
Ben Simpson is a passionate entrepreneur and the CEO of Collective Shift, a pioneering platform for Web3 education and research. With a mission to democratize crypto education and wealth for millions, Ben is dedicated to providing the tools, analysis, and education needed to achieve financial success in the world of cryptocurrency.
Born and raised in Tasmania, Australia, Ben is always at the forefront of the crypto industry, tackling the most challenging problems faced by scale-ups today. Along with his work at Collective Shift, he is also committed to providing basic financial education to millions around the world.
In his free time, Ben enjoys playing golf, watching sports, listening to business podcasts, drinking coffee, and reading. He is driven by a desire to make a positive impact and help others achieve financial freedom through the power of crypto.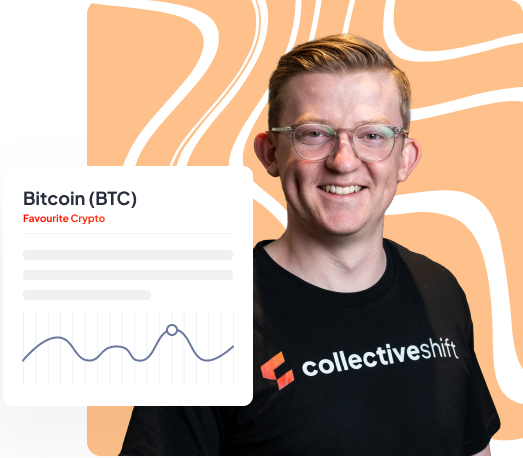 Frequently asked questions
Choosing the right membership really depends on the type of crypto investor you are.
An Insider membership is great for those looking for exposure into different types of projects including discoveries from the web3 and NFT ecosystem on a daily basis. With an Insider membership, you are geared-up with cutting-edge research and timely insights to fuel your research and ultimately help you make more informed decisions.
If you're already deep in the space and love spending time digging into new projects and daily discoveries then an Insider membership may very well be perfect for you!
A Pro membership is our most popular membership as it gives you an all-access-pass to our content including our suit of Shift Portfolio reports which is particularly popular amongst those who are time poor!
There's a lot of awesome content in this membership and although we know many love to dig deep into our daily insights and research, we also understand that some Pro members simply don't have the time and prefer to get straight to the point of seeing WHAT we do including when and why we do it. So, that's what we deliver!
We can't tell you what to do (we are not financial advisors) but we can show you what we're doing with our suite or portfolio reports.
A final note, no matter what membership plan you choose you can always upgrade or downgrade your membership at any time.
We don't provide direct financial advice, nor provide trading entries or exits. However, for Pro members, we provide you with what we are buying and selling as part of the Shift Portfolio suite.
We also provide regular insights, research, reports and analysis that is designed to be 'another tool in your toolbox' – helping to fuel your own research and save you time by giving you our opinion on what the market is doing and where we think it is going.
We occasionally produce trading related content and frequently discuss trading related topics in our community, however, we are not a trading group.
We do have a number of trading partners that regularly post trading related content in our community and all Collective Shift members receive exclusive discounts for trading education with our trading partners.
Absolutely! All content is stored in the Collective Shift platform for members to access and index at any time.
We offer a 60-Day Guarantee to try out the membership 100% risk-free.
Terms & conditions apply. Please refer to our Money Back Guarantee Terms via the link here for full details
Yes, we only offer cryptocurrency payments on Yearly plans via Coinbase. You can pay with cryptocurrency in the online checkout. Accepted cryptocurrencies are as follows: bitcoin (BTC), ether (ETH), litecoin (LTC) and bitcoin cash (BCH).
Yes, Stripe and PayPal payment methods auto-renew each period, however, cryptocurrency must be processed manually (only available on yearly plans).
Yes, we accept SMSF account memberships (only available on yearly plans). Please contact support using the chat feature below and our friendly team will help assist further.
Absolutely! You can upgrade or downgrade your membership from within the Collective Shift platform (desktop devices only).
You will receive instructions on how to access the Collective Shift member platform once you have successfully signed up to a membership plan.
Those who wish to join the Collective Shift Crypto Community will need an active Facebook profile to access the group.
Yes! We have an android mobile app – search the Google Play store for "Collective Shift".
iPhone owners – our iOS app will be out soon. For now you can enjoy the Collective Shift mobile expereince in your mobile browser.
Not at all. The decision to join the CSCC is completely up to you.
If you're not interested in joining the community or don't like using Facebook, then you can still access our premium research reports, daily updates, analysis, educational content and more on the Collective Shift platform.
Transitioning our community from Facebook to the Collective Shift platform is on our Roadmap. Stay tuned for updates via our newsletter.
Access Essential Crypto Tools and Resources for Free with Collective Shift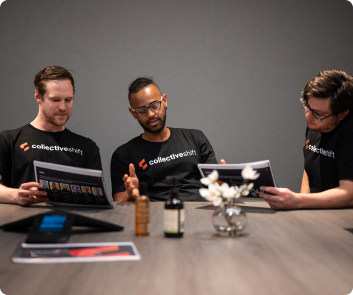 Top Tutorials
Take advantage of our free crypto tutorials and gain valuable knowledge and skills to succeed in the world of crypto.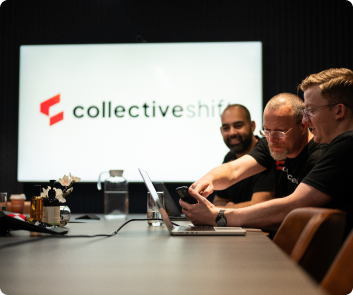 Weekly Newsletter
Stay up-to-date on the latest crypto trends and insights with our free, industry-leading weekly newsletter.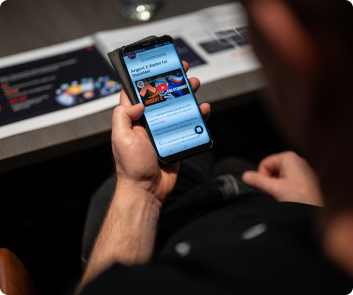 Collective Shift Podcast
Join the Collective Shift community and learn from industry experts and successful crypto investors through our popular podcast.