An airdrop is a growth mechanism for web3 companies that provides a financial incentive to early adopters and participating members of these communities.
Collective Shift believes that the launching of new tokens by web3 companies will continue in the coming years and that airdrops will provide large yields for prepared and participating investors. Successful airdrop campaigns that Collective Shift members have participated in are listed at the bottom.
Contents
What Are Airdrops?
An airdrop is a distribution of cryptocurrencies to a predefined set of users' wallet addresses free of charge. (Sometimes, eligible recipients must pay a small transaction fee to claim the airdrop.)
In the broadest sense, airdrops can be performed by any web3 company. Each web3 company has a web3 application that is aggregating the web3 addresses of all its users. Typically, airdrops are determined by the use of a web3 app by a web3 wallet. A broad airdrop strategy for investors is to use as many web3 apps as reasonably possible thereby registering their wallet with each of them.
Airdrops are handled slightly differently depending on the industry:
Airdrops for DeFi organisations are typically determined by the transaction or staking volume of a user on a specific platform during a specific period. For DEXes this typically means exchange-traded volume and amount of Liquidity Pool tokens locked in the platform and for how long. For lending platforms generally, the amount of funds lent or borrowed.
Airdrops for NFT collections typically require the holding of an NFT at a 'snapshot' date. A 'snapshot' is the list of all NFT holders at a given point in time. Snapshots are typically either teased beforehand or taken unbeknownst to the holders and retroactively announced. Those web3 addresses on the snapshot list will be eligible for the airdrop.
Airdrop Ratings
Below is a list of the projects building blockchains, wallets, dapps and NFTs that could airdrop tokens.
⭐⭐⭐⭐⭐ represents the greatest possible potential of an airdrop.
Last updated on Aug. 15, 2023. The next update will be Feb. 13, 2024. The newest additions and updates are highlighted in green.
Blockchains
Blockchain
Airdrop Potential
Action Steps
Scroll
⭐⭐⭐⭐
An Ethereum scaling solution. Recently entered public alpha with anyone able to join testnet and try it out. Connect, bridge funds and test out apps. See the Scroll testnet guide here.
LayerZero
(Website)

⭐⭐⭐
No official announcement about an airdrop; individuals who anticipate a Layer Zero airdrop can take action by getting involved with Layer Zero projects. Stargate, a protocol on Layer Zero, is a good place to start, and options include providing liquidity, staking STG tokens, or participating in DAO proposals. Another possibility is using the Aptos bridge, which operates on Layer Zero technology.
Aztec
⭐⭐⭐
One of the biggest upcoming privacy layer-2 Ethereum networks. Raised $100M from a16z, Paradigm and Consensys.

Join Discord and test its first dapp, zk.money.
zkSync
⭐⭐⭐⭐⭐
Create a wallet, bridge funds to zkSync Era, and use some supported apps.
Starknet
⭐⭐⭐⭐⭐
Create an Argent X wallet and use Starknet apps once launched. The token has been confirmed and an airdrop is probable in 2023.

The team have signalled tokens will go to developers first "build something, and you'll get tokens."
Optimism #3
⭐⭐⭐⭐⭐
13% of the total $OP supply has been allocated to future user airdrops (airdrops #1 + #2 are completed).

Use the official bridge and move cryptocurrency from a blockchain to OP Mainnet.

Ultimately, you want to use apps built on OP Mainnet. We also are awaiting further instructions on eligibility for Airdrop #2.
Cosmos
⭐⭐⭐⭐
Staking of $ATOM can reward in airdrops from Cosmos-native dapps.
Sui
⭐⭐
Sui launched its mainnet this year with the controversial decision to not airdrop tokens to early Sui users, opting for a public sale. Sui has a large treasury and with a competitive layer 1 landscape, a delayed airdrop may not be out of the question.
Celestia
⭐⭐⭐⭐⭐
A new blockchain focusing on 'data availability'—taking a different approach to all other blockchains. Confirmed a token via their FAQs. The best way to qualify will be to participate in incentivised and non-incentivised testnets.
Base
⭐⭐⭐⭐
Coinbase's Ethereum network 'Base' went live in early August 2023. Although Coinbase stated there would be no native token, there could remain airdrop opportunities from cryptocurrencies launched on Base or NFTs from Base themselves.

It's very possible that other dapps deployed on Base target early users of Base by offering incentives (e.g. airdrops, boosted yield).
Linea
⭐⭐
Consensys' new Ethereum network, Linear, launched this month. Consensys is the company behind MetaMask, the most popular crypto wallet. Early users of Linea could be eligible for an airdrop if Linea tokenises.
Adding an RPC to a Web3 Wallet
The initialism 'RPC' stands for 'remote procedure call', a set of protocols that allow a client (e.g. MetaMask) to interact with a blockchain. Investors can use Chainlist to add the Ethereum Virtual Machine (EVM) compatible RPCs to their MetaMask wallet.
Wallets
| App | Airdrop Potential | Action Steps |
| --- | --- | --- |
| MetaMask | ⭐⭐⭐ | Create a wallet and transact using their exchange feature. |
| Phantom | ⭐⭐⭐⭐ | Create a wallet and swap inside. |
| Zapper | ⭐⭐⭐ | Use the protocol. Complete quests, earn NFTs and Volts. |
| Zerion | ⭐⭐⭐ | Use the protocol. Signalled a desire to 'decentralise'. |
Bridges & Infrastructure
| App | Airdrop Potential | Action Steps |
| --- | --- | --- |
| Wormhole | ⭐⭐ | Use it to send tokens from one blockchain to another. |
| EigenLayer | ⭐⭐⭐⭐⭐ | Deposit any supported LST (e.g. stETH, rETH, cbETH) when caps are increased on August 22. Likely to tokenise in 2024 or 2025. |
DeFi & Dapps
App
Airdrop Potential
Action Steps
Unstoppable Domains (Website)
⭐⭐⭐
Buy and hold a domain name.
Matcha (Website)
⭐⭐⭐
Use the protocol.
Lens (Website)
⭐⭐⭐⭐⭐
Minting Lens profiles are currently unavailable. Users can only buy Lens profiles on OpenSea. Buying for an airdrop may not be wise due to high cost, and prices likely plummet once Lens opens to the public and supply increases to infinite.

Look out for minting opportunities on official channels. Users with a DegenScore of 700 or higher can mint via Phaver App.
Fractal (Website)
⭐⭐
A hub for web3 games. Using the platform, being active in Discord and potentially using or collecting Fractual NFTs.
Bundlr (Website)

⭐⭐⭐⭐
Watch for more Bundlr Quests and opportunities to participate in its permissionless data network.
DeFilama
⭐⭐
One of the leading data analysis dashboards tracking the crypto ecosystem. Recently expanding into swapping cryptocurrencies and becoming an aggregator. Could potentially tokenise, albeit with a lower chance.
Swell Network
⭐⭐⭐⭐
An ETH liquid staking network. Similar to Lido airdropping governance tokens to early stakers, Swell Network could do the same.
Ether.fi
⭐⭐⭐
Another ETH staking platform looking to take marketshare away from Lido and provide more decentralisation of the ETH staking supply. Raised a total of $5.3M in recent funding, making it an ideal airdrop candidate for early users.
Jito Network (Website)
⭐⭐⭐⭐
Jito is a staking rewards service on Solana. They are currently running a 'Points' program rewarding users who stake their SOL with their JitoSOL staking token.
NFTs
Platforms
App
Airdrop Potential
Action Steps
Zora
⭐⭐⭐⭐
Hold the Zorbs NFT. Collect some NFTs on Zora Network after bridging funds there from Ethereum mainnet.
OpenSea
⭐
Buy and sell NFTs on OpenSea.
Blur
⭐⭐⭐⭐⭐
Participate in Season 2 of the $BLUR airdrop.

More than 300M $BLUR will be airdropped in Season 2. The exact amount has not been specified. In Season 1, 360M $BLUR was airdropped in Season 1.

It's unknown when Season 2 will end.
Collections
The great NFT collections are building into the metaverse for the long term by creating ideals, values, storylines and an ethos for a group of decentralised people. These collections have proven to have a high probability of airdrop for NFT holders. Collections have proven to provide a yield to holders through the accumulation and sale of additional NFTs released by the creators.
The best-case scenario for holders is that additional NFTs are airdropped to them for free or given to them for the cost of claim fees (typically $25–$75). At minimum, holders are typically given first right to mint additional NFTs released by creators at normal cost or at a discount. In both scenarios, NFT holders are given financial incentives for simply being a holder.
In 2021 and 2022, NFT startups were primarily creating their first NFT collections for their digital brands. Through the natural building of a startup's metaverse, an initial collection of 10,000 NFTs will be released, followed by an additional 10,000–20,000 NFTs to grow the brand and tell a story. Those holding the initial collection typically reap the financial and non-financial incentives from the release of secondary and tertiary collections.
To complement the long-term nature of our research, we periodically share the current airdrop actions that Collective Shift analysts are making in the execution of each's airdrop strategy.
To see Collective Shift's analysis, sign up or try our free trial today!
Our Analyst Actions
Airdrop Strategies
Some strategies when looking for airdrops include:
Providing staking: Many users focus on staking a wide variety of core cryptocurrencies, such as $ATOM, to be eligible for protocol airdrops.
Participate in governance: Many tokens airdrop to users who use governance tokens to vote.
Finding your niche: Crytpo organisations are getting wiser about airdrop farmers. Instead of scattering your eggs, it might be better to focus on a particular niche—such as Cosmos ecosystem or Ethereum L2s.
Using testnets: Often, cryptocurrencies will provide some early supply to those who helped test the protocol via testnets and early releases.
Active in Discord: Cryptocurrency protocols often airdrop an early supply to its most active and earliest Discord members. It pays to be active and give value. You can't be in all Discords, so find your niche or favourites.
Avoid simple giveaways: CoinMarketCap and other websites have an airdrop feature. Strongly consider avoiding these, as many of the tokens don't have much value, some are illegitimate, it's riskier, and there are many low-quality projects.
Who needs a token: Not all blockchain-based apps need a native token. Look for which platforms would benefit from a native token or which need to decentralise (governance tokens are one way to do this). DeFiLlama maintains an airdrop page—although, be extremely careful with new or forked protocols—enter at your own risk.
Look at previous eligibility criteria: Projects are becoming more adept at excluding airdrop farmers. It's worth looking at previous eligibility criteria to maximise a chance at an airdrop.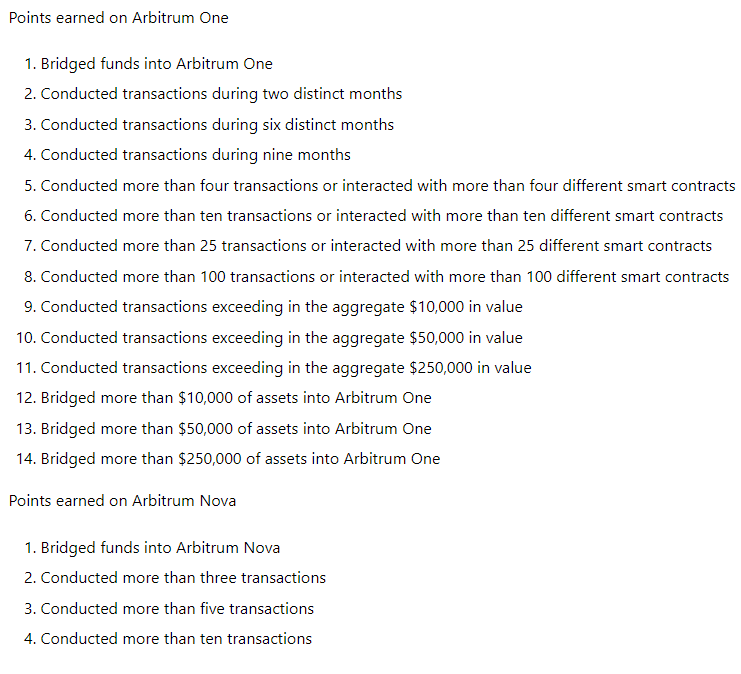 Risks & Considerations
Be safe out there. Keep the majority of your funds in a cold, separate wallet. Ideally, use a separate computer or browser wallet for connecting to more "risky" airdrops.
Although the allure of 'free money' is strong, it's important to remember the risks and challenges:
Malicious sign: Always be careful with what you permit when signing your wallet. Take best practices when using early and experimental protocols. Also, ensure you don't have a significant value attached to that hot wallet when engaging in these activities.
Rug pull: There's a chance if you get a cryptocurrency from an unknown project it could be malicious or rug pull. It's important to do your due diligence and use best security practices.
Time: It can be time-intensive to farm airdrops—consider how valuable your time is.
Cost: Although airdrops are generally 'free', they aren't exactly, especially if you are specifically farming them. You might make transactions, spend gas, bridge or incur transaction fees you may not have otherwise done. This costs money, so these airdrops aren't necessarily 'free'.
Legal: You may not be able to claim your airdrop. Many U.S.-based users were excluded from some highly prized airdrops.
Tax: Depending on where you live you may have a taxable event as soon as you claim an airdrop, and then again when you sell. Consult your tax professional if you're unsure of the tax laws in your country.
Scams: The most common risk out there. Many scammers imitate projects to trick users into minting or claiming a token that's not real. For example, see the below fake Arbitrum airdrop—clear red flags are the inability to comment and incorrect X (formerly Twitter) handle.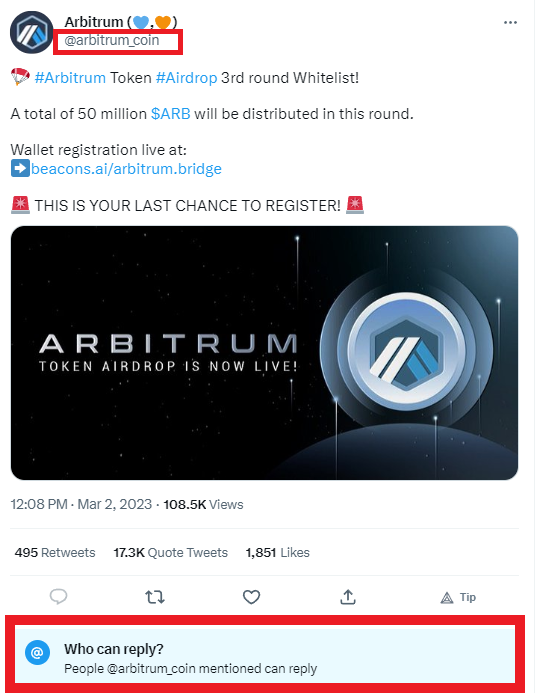 Successful Airdrop Campaigns
App
Action Steps
Optimism #1
5% of the total $OP supply was airdropped to early adopters who bridged tokens to Optimism and then used apps on Optimism. (Airdrop #1 Eligibility)
Optimism #2
OP Airdrop #2 has happened!
1inch airdropped 300,000 $OP to Optimism users. Not yet live, keep your eyes peeled. (Announcement)
Hop Protocol
~55M $HOP were airdropped to previous users of the Ethereum L2 bridge. (Check eligibility)
SudoSwap
Details about $SUDO, the governance token of the sudoAMM protocol. As of Sep. 5, the token is yet to launch. (Announcement)
Metaplex
Airdropping $MPLX to Solana NFT creators. (Announcement)
Aptos
A not-yet-launched blockchain by ex-Meta executives. Will tokenise. Some will likely be airdropped to those participating in the current series of incentivised testnets.
Arbitrum
Airdroped $ARB to early users of Abitrum based on criteria of activity. Claiming ends late September. (Airdrop eligibility)
ZigZag
Early ZigZag users were rewarded with 7 airdrops. (Airdrop eligibility)
To keep up with the latest airdrop news, speculation and announcements, visit the #airdrops channel in our Discord server or comment below with the potential airdrops you're monitoring.