Brave is a next-generation web browser built from the ground up and based on the Chromium development framework—that is, the same basis of Google Chrome browser.
Brave offers the same functionality that you'd expect of a web browser: bookmarks and organisation; extensions marketplace (including all Chrome-based extensions); developer tools; browser profiles; and private browsing. It's available on Windows, Mac and Linux desktop, as well as Apple and Android mobile platforms.
What's Different About Brave?
The main distinguishing factor of Brave—relative to other web browsers—is its Brave Rewards system. Users are paid to be shown advertisements and advertisers pay to have their ad shown to users.
This allows for an equitable solution between users and advertisers. Since you spend your time looking at or receiving the advertisement, Brave will issue you rewards in the form of Basic Attention Token (BAT), an Ethereum-based token designed to reward users for their attention.
How It Works
Central to Brave is a sentiment of 'give and take' with their platform, allowing users to tip content creators with BAT which they earned by viewing privacy-respecting advertising.
Rewards
Within the settings of Brave Rewards, you can choose how frequently you want to be shown advertising, from 1–5 times per hour. This lets you control how much time you spend viewing ads.
Once you view an ad, you can either click it to view a full version in a private tab or click a dismiss button and continue browsing. A small amount of BAT is allocated to your browser's wallet once you have received a notification for an ad. Within the first week of each month, BAT in your browser's wallet is automatically withdrawn to a custodial partner of Brave called Uphold—which is covered later.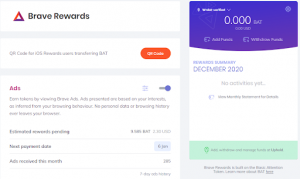 Brave Rewards homepage
Tips
Brave-registered content creators can get BAT-denominated tips from viewers. Tips are a great way to give a little bit extra to the content creator in exchange for content you find valuable. Tipping is extremely simple and takes just a couple of seconds, which is useful for those who want to give back to their favourite content creators. Brave takes zero cut and all the content creator pays for is the blockchain withdrawal fee.
Tips can go to authors of a tweet or a YouTube video for example, and the BAT is sent instantly from your browser's wallet to the content creator's wallet.
Remember to keep notifications switched on for Brave Browser in on your operating systems settings. Failing to do so will mean you do not receive any ads from Brave.
Partnership With Uphold
Although Brave Browser does an incredible job as a web-browser and facilitator for advertisers and viewers, it's not a fully fledged crypto wallet—which is why they partnered with Uphold.
Who are Uphold?
Uphold is a global platform that gives its more than a million users access to over 18 cryptocurrencies, over 27 fiat currencies, stablecoins, equities and precious metals.
It has processed billions of dollars worth of transactions and is transparent in publishing the real-time balance of its reserves.
Uphold is similar to a standard crypto exchange in many ways, where users can swap currencies and other investment products.

What does Uphold do?
Uphold is a trusted partner of Brave and acts as the utility gateway for earning BAT, helping users to access and store their BAT. BAT rewards held within Brave can only really be used for tipping content creators, while others prefer to swap their earned BAT for other cryptocurrencies. Uphold allows withdrawal in several forms so long as users have passed regulatory KYC requirements.
Privacy
Brave gives users huge flexibility with regards to privacy and includes a private browser mode. Brave also comes with TOR network integration, which scrambles users' IP addresses and ensures users' web data is wiped from their device once they close the private browsing tab. When paired with a VPN provider, these features help ensure strong privacy protection.
READ: Beginner's Course: Using a VPN
Brave actively confirms they are not in the business of collecting personal data. Your browsing data is never seen or stored on any Brave server. In other words, once your data is deleted locally, it's gone for good.
Brave Shield offers innovative features to block ads and trackers within websites and displays relevant stats. These are the ads you are not paid to view, for example ads on Facebook or Google.

A screenshot of a user's new tab blocked trackers and ads data
Privacy-respecting ads mean any user data isn't leaked from their device. The ad-matching technology happens within the device itself, so data is not sent to anyone else.
Since Uphold is a U.S.-based company, they must comply with U.S. laws around financial services. Because of this, users must verify their identity via a KYC process to access the withdrawal features.
If any company were to mirror Brave's attitude toward privacy and user protections, it'd be Uphold. Uphold is actively seeking better ways to verify users and are working with GlobalID to develop zero-knowledge proofs to perform essential regulatory user verifications.
If you have any issues or want to learn more about Brave Browser visit their Help Center and FAQs.