After learning the basics of cryptocurrency fundamental analysis as well as the various factors to explore when researching, you may want to think about how you source information. This resource describes common sources to consider when researching a cryptocurrency and the project to which it is native.
Official Website
Almost always, the place to start learning about and researching a project is its official website. It serves as a hub from which you can safely access explanatory content, social media accounts and technical documentation.
Largely under-appreciated is a project's careers page. You can learn a lot about the state of a project by checking how many full-time positions it is hiring for and, arguably more importantly, the nature of said positions.
For example, if a project has 7 full-time job postings, 6 of which are for developers and engineers, that is a strong indication the project will be in 'building mode' for the foreseeable future and will likely be relatively quiet from a marketing standpoint.
Community Forums
Many projects' core teams maintain online forums on which stakeholders exchange opinions and discuss ideas. With an increasing number of projects currently in the process of transitioning towards community-led governance structures, the importance of community forums is only growing. (To appreciate the significance of forums, just imagine how difficult it'd be to cultivate a strong and engaged community without one.)
Reading through posts on a project's forum is generally an incredibly efficient way to learn about a project. Doing so can give you valuable insight into current issues as well as the core team's short-term focuses.
Discord
Originally built for gamers, Discord is a chat platform designed to host communities online. Each community has its own 'server', and in each server is multiple 'channels'.
Many crypto projects have their own Discord servers, which essentially function as a community forum. Joining a project's server to ask questions or partake in discussions can prove to be a highly effective way to get answers. What's more, you can search through past discussion with ease.
Upon joining a server, you'll typically be taken to a channel named '#start-here', '#welcome' or something similar.There are channels for all sorts of things. There might be one for discussing governance proposals, another for FAQs and another for announcements by the project's core team, for example.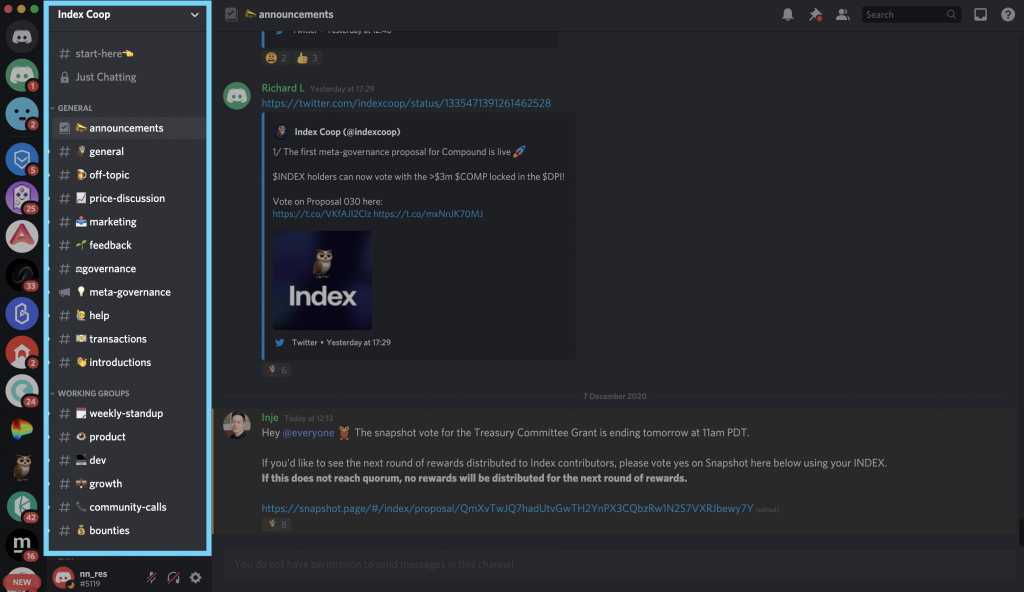 Index Coop's Discord server (Source)
On the desktop app, the servers you're in appear as icons along the left-hand side. When navigating a given server, the panel on the left displays all of its channels. (In the above example, the blue-outlined box highlights the 18 channels constituting Index Coop's server.)
Making a Discord account is free. You need one to join a server. If a project has a Discord server, you can typically find the invite link on its official website or a cryptocurrency data aggregator such as CoinGecko or Messari.
(Discord's soaring growth in 2019–20 has by and large obsoleted the likes of Telegram and Reddit when it comes to community management in the crypto space. While many projects still maintain a Telegram channel and/or subreddit, it will typically be in addition to maintaining a Discord server.)
Twitter
Twitter is incredibly useful for finding information and keeping abreast of breaking news. Almost every crypto project has a Twitter account. Generally, reading a project's past tweets, comments and likes is an efficient way to gauge where a project's at from a development standpoint.
It can also be worthwhile scouring the list of accounts that a project is following. Doing this generally informs you of the project's key stakeholders, the profiles of which you may then choose to research.
Given Twitter's standing as the crypto industry's social media platform of choice, it is highly recommended you learn how to use Twitter's advanced search. By being able to find relevant information faster, you can save yourself hours of research time.
Blogs
Crypto projects publish blog posts to communicate important developments and explain project-specific concepts. If you can't find a project's blog on its website, you're all but certain to find it on Medium.
Docs
Docs are a must-have in any competent crypto researcher's arsenal. While some projects store docs on their own websites, others rely on third-party software such as Notion, GitBook or Read the Docs to present key information in an organised, easy-to-navigate way. Examples of projects with particularly comprehensive docs: Rari Capital, Index Coop and Zcash.
YouTube
Watching videos on a project's official YouTube channel can dramatically improve your understanding of its blockchain-based solution(s) and current objectives. That said, the number of project-specific channels is surprisingly quite low. Commissioned explainers, founder presentations and community calls are common types of videos that projects upload to their channels.
On community calls, they are usually live-streamed on either YouTube itself or an alternative streaming software such as Zoom or Crowdcast. These calls are free to join and are typically organised on the project's forum or Discord.

MakerDAO's YouTube channel (Source)
LinkedIn
Researching a project's core team is a key component of cryptocurrency fundamental analysis. Through LinkedIn you can easily find the accounts of the founder(s) and core team members. Individual profiles typically include a bio, academic background and employment history.
GitHub
For the more technically inclined, a project's GitHub repository—or 'repo' for short—is the place to go. The vast majority of crypto projects being open-source means that anyone can view and inspect their code. You can also monitor what a project's developers are currently working on as well as trends in developer activity.
Third-Party Data Aggregators
Cryptocurrency data aggregation platforms display relevant information on a project's native cryptocurrency. Examples of such platforms are CoinGecko, Santiment and Messari.
Whilst the richness of these platforms' datasets varies significantly, they all display basic price data and statistics on the vast majority of cryptocurrencies. Referencing these can give you a more comprehensive understanding of the cryptocurrency you're researching.
Free Research Platforms
There are several websites in the crypto ecosystem that contain publicly available project-specific information. Reputable examples include Everipedia and Binance Research. Do note that if the project you're researching is new and/or relatively unknown, odds are that it won't yet have a dedicated page on these platforms.