These monthly reports—available to Pro members only—cover altcoins that have recently caught our analysts' attention. In these reports, we share our opinion on these altcoins' progress and outlook. (For the purpose of this report, altcoins are defined as cryptocurrencies that are not BTC or ETH.)
Contents
Solana (SOL)
Analyst take: Despite flat onchain activity, Solana continues to progress in other key areas, such as collaborating with the world's largest payment processor (i.e. Visa) and integrating with the leading global commerce company (i.e. Shopify). Anticipation continues to grow for Firedancer, the most significant upgrade to Solana to date.
Visa & Shopify Among Latest High-Profile Names to Adopt Solana
Global payments giant Visa announced in early September that it would expand its stablecoin settlement program to Solana. The expansion will see Solana and Visa collaborate with merchants Nuvei and Worldpay to tap into Circle to facilitate USDC payouts over the Solana network.
Visa also published a deep dive on Solana to explain why it was chosen for the USDC settlement pilot. Reasons covered by Visa included Solana's validator set, fast finality time and high adoption.
Additionally, in late August, Solana Pay was integrated as a plugin option inside Shopify, allowing merchants and users to harness Solana as a low-cost way to settle payments.
These sorts of announcements help Solana gain legitimacy and may lead to other similar announcements with other companies looking to build with blockchain technology.
Big Announcements Coming at Breakpoint Conference
Solana's yearly conference, Breakpoint (Oct. 30–Nov. 3), is fast approaching. Several announcements are likely, and we will update you on major takeaways in a later report.
One we're excited about is Firedancer, a client for Solana that is critical to improving Solana's infrastructure. Firedancer promises to:
make Solana more durable and secure;
help scale the network through faster and more concurrent transactions;
lower the cost of running a validator node; and
help decentralise the network.
In a recent interview with Solana Labs co-founder and CEO Anatoly Yakovenkoy, when asked about a timeline for Firedancer, he said that he expects the team to "get something out by Breakpoint," but it won't be a full release.
Polygon (MATIC)
Analyst take: Work is underway to implement the recently announced Polygon 2.0 in a multi-phase rollout. The first phase may start being implemented in early Q4, assuming it passes a community vote. Polygon also made it easier for projects to build on Polygon with the launch of a new development framework as more projects continue to migrate to Polygon's ecosystem.
Community Feedback Open For Polygon 2.0
As covered in July's Altcoin Report, Polygon Labs recently announced Polygon 2.0, a set of proposed upgrades that would unite all Polygon chains and overhaul the native token of Polygon. The first 3 changes (i.e. PIP-17, PIP-18 and PIP-19) were proposed for community feedback in September.
The most important of these was PIP-18, which specifies Phase 0 ('Frontier') of Polygon 2.0. If Phase 0 is approved by the community in its current form, users won't have to do anything and implementation "will begin to take place in early Q4 of this year," as per a blog post by Polygon Labs.
For more on Polygon 2.0, read Nick's recent member post, 'Making Sense of Polygon 2.0 & The New MATIC Token'.
Projects Launching Chains With Polygon CDK
Polygon Chain Development Kit (CDK) was released in late August. The CDK provides a framework to build with Polygon, making it easier for developers to get started in the Polygon ecosystem. Several teams have already announced they're building with Polygon CDK and becoming more deeply embedded into the Polygon ecosystem.
| Project | Detail | Date |
| --- | --- | --- |
| Wirex | Building with Polygon CDK | September |
| Astar Network | Building with Polygon CDK | September |
| Canto | Building with Polygon CDK | September |
| Immutable | Building with Polygon CDK | August |
| Aavegotchi | Creating a Polygon 'Superchain' | March |
| IDEX | Creating a Polygon 'Superchain' | July |
| Palm Network | Creating a Polygon 'Superchain' | July |
Projects that recently announced Polygon migration
Cosmos Hub (ATOM)
Analyst take: Plans are in place to finalise the 2024 roadmaps for Interchain Stack and Cosmos Hub. Separately, the upcoming launch of dYdX v4, built with Cosmos technology, may very well prove to be a watershed moment for the Cosmos ecosystem.
2024 Roadmap For Interchain Stack: Focussing on Expansion & Usability
The 2024 roadmap for the Interchain Stack was published last month. (The Interchain Stack is a broad term that describes the various tools available to Interchain developers (e.g. Cosmos SDK, CosmWasm, CometBFT).)
The community had until Oct. 1 to provide feedback, the results of which will "shape and focus the [Interchain Foundation's] funding strategy around the community's most critical needs."
One notable roadmap item was the integration of the Inter-Blockchain Communication Protocol (IBC) with Optimism's OP Stack. This would help expand the reach of the IBC, which currently is only practically usable in production by Cosmos SDK and CometBFT chains. (As described in the 2024 roadmap, even with these limitations, the IBC facilitated 52M transfers of $29B in value across more than 100 chains in the 12 months ending Feb. 2023. In simple terms, the IBC lets blockchains talk to each other. More on the IBC.)
2024 Roadmap For Cosmos Hub: Focussing on Security & ATOM Liquidity
A strategic roadmap for 2024 was released for community feedback. Below is an excerpt from the post that describes the key strategic themes of the roadmap. (Also, this Google Doc contains more details, including a competitive analysis for Cosmos Hub.)
Security and composability: The Cosmos Hub provides Interchain Security, which allows chains in the Atom Economic Zone to launch with a very high level of security. During 2024, the Cosmos Hub will extend this to provide chains in the AEZ with composability through Atomic IBC: the ability to integrate tightly with instant IBC transactions.
Liquidity: The Cosmos Hub is using concepts such as protocol-owned liquidity and liquid staking to harness the substantial liquidity and market value of the ATOM token to provide chains in the AEZ with liquidity and collateral, while reinforcing the foundational role of ATOM.
IBC Routing: In 2024, the Cosmos Hub will launch IBC routing, which will allow any chain which uses IBC to cut relayer costs by routing light client updates through the Hub. This service leverages the Hub's neutral status and high security, since routing requires trust in the intermediary chain.
Separately, early discussions are in place to change the tokenomics of ATOM—particularly, potentially changing the token's monetary policy "from a dynamic inflation model (as a function of % bonded) to a static supply schedule due to the advent of liquid staking."
Rocket Pool (RPL)
Analyst take: After the major 'Atlas' upgrade in April, the developers are far from finished making improvements to the Rocket Pool protocol. Indeed, work is advancing on the next two major upgrades, 'Houston' and "Saturn'. In terms of market share for staked ETH, Rocket Pool has climbed steadily this year and now accounts for 2.98% of all staked ETH.
Working on Major Upgrades
As covered in an earlier Altcoin Report, Rocket Pool released its 'Atlas' upgrade in April. Since then, planning has continued for the next major upgrades, 'Houston' and 'Saturn', which should go live in the next 1–2 years. Rocket Pool advocate Jaspreet Kalsi explained the significance of these upgrades in a recent thread embedded below.
These upgrades are inherently technical and introduce new concepts (e.g. megapools). However, at their core, 'Houston' and 'Saturn' promise to make Rocket Pool significantly cheaper to interact with for ETH holders and more appealing to prospective node operators. Also, these upgrades will make Rocket Pool more accessible because the minimum staked ETH will decrease dramatically.
Market Share Steadily Increasing
When we covered Rocket Pool in February's Altcoin Report, only 2.37% of all staked ETH was with Rocket Pool. We correctly predicted that this percentage would increase post-Shapella, with Rocket Pool's share reaching 2.67% as of May 3. Nearly 5 months later, this percentage has steadily climbed to now be at 2.99% of all staked ETH as of this writing.
Pockets of the Ethereum staking community continue to voice their concerns with the amount of ETH staked with Rocket Pool's main competitor, Lido. Of all the ETH staked, roughly 32.32% of it is deposited with Lido. This percentage is slightly less than 33.33%, a critical threshold that can jeopardise a blockchain's security. (The critical thresholds of 50% and 66.66% are even more threatening.)
In the unlikely event that LDO holders vote to cap how much ETH can be staked with Lido, Rocket Pool would benefit significantly. This is worth monitoring, especially if the percentage of ETH staked with Lido does eventually surpass 33.33%.
dYdX (DYDX)
Analyst take: dYdX v4 is close to mainnet after September saw DYDX officially become the native token and the final testnet reset go smoothly. dYdX continues to post market-leading daily volumes, in a big boost of confidence its new chain will see extremely high demand for stakers and validators.
Mainnet Launch Close After Recent Milestones
After a long period of development, dYdX v4 is now very close to launching, with the below milestones all being achieved in September.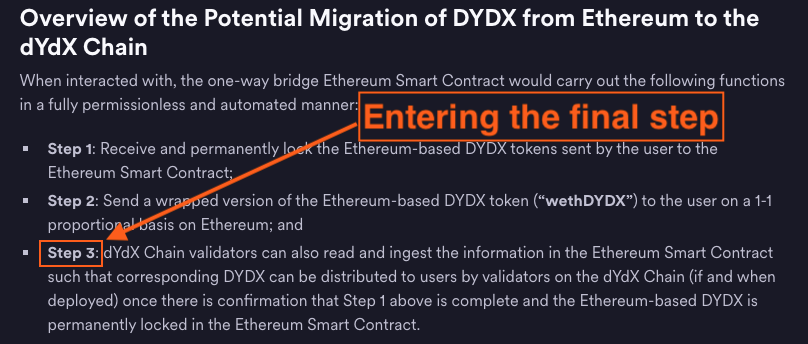 Relatively Strong Volumes
dYdX continues to be one of the most heavily used DeFi platforms, having recently done nearly $5 billion in weekly volume and more than $1 trillion since launching in October 2018. For reference, despite dYdX's volume halving in the last year amid an industry-wide dive in volumes, dYdX continues to consistently outperform direct competitors (e.g. GMX, Synthetix).
The upcoming v4 launch may help entrench dYdX as the go-to platform for DeFi derivatives, a market that founder Antonio Juliano thinks "will grow 10x+ in the next few years." Currently, in the crypto derivatives market, roughly 2% of volume goes through DeFi platforms like dYdX.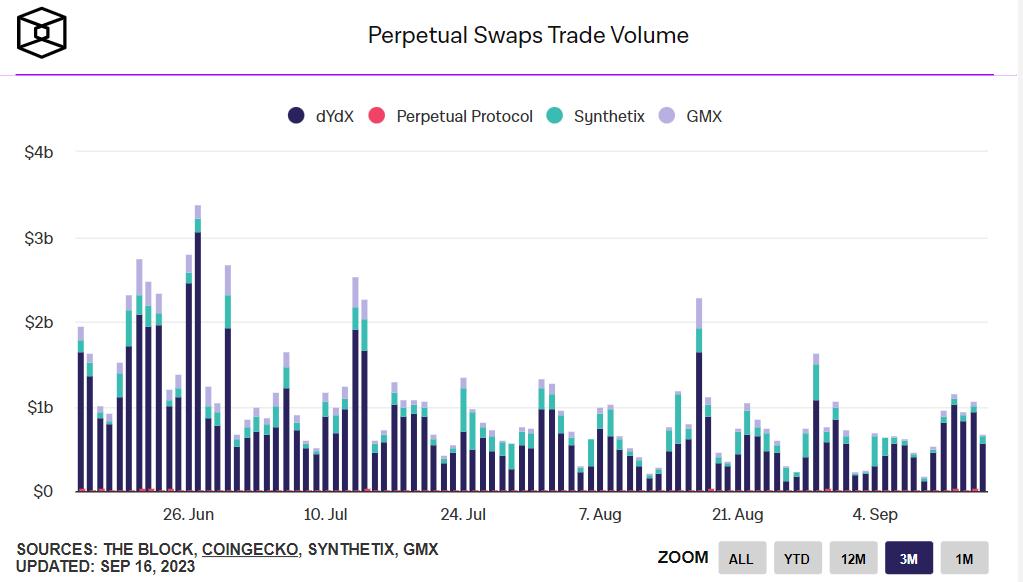 Upcoming Milestones & Conferences
All technical releases are on mainnet unless otherwise stated. Only project-specific conferences are listed.
Want more altcoin content? See September's report covering DOT, ARB, AAVE, ENS and MPL.